Evolution of Voting Rights in Washington State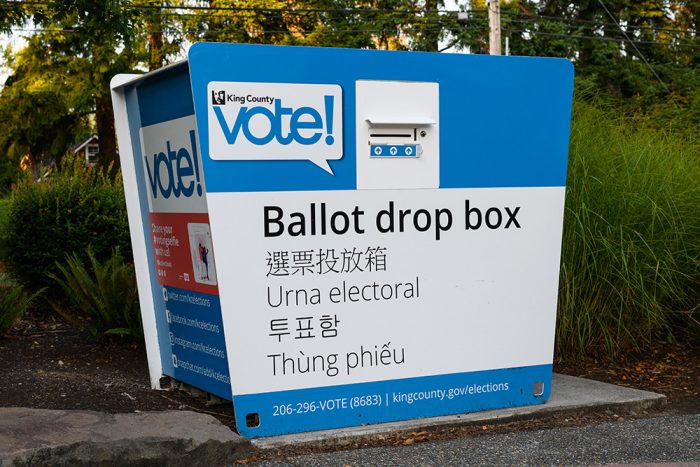 When Isaac Stevens became Washington Territory's first governor in 1853—one of the earliest signs of American government in our region—no one who lived here cast a vote for him. No one could, of course, because territorial residents did not have the suffrage, and Stevens was directly appointed by his friend President Franklin Pierce. Fast forward 170 years, and today Washington State is considered one of the most progressive in the nation when it comes to protecting and expanding voting rights, with recent laws extending the suffrage to formerly incarcerated persons and people with non-traditional addresses, as well as a robust vote-by-mail system that removes barriers posed by transportation or polling place schedules.
We've come a long way since Steven's day, but it has been far from a straight line, or a smooth road toward universal suffrage. When Washington became a U.S. territory, most residents had limited political power, and Native people and other people of color had none. The U.S. president appointed every significant territorial officer, and citizens could only elect a non-voting delegate for the U.S. House of Representatives, representatives for the territorial assembly, and local office holders.  But when Washington  became a state in 1889, the white men of the territory could at last fully participate in American democracy. They drafted, debated, and passed the new state constitution; voted for representatives in Olympia and Washington, D.C; elected their own governor; and cast votes for US. president.
Yet the battle for suffrage was hardly over. While the 15th Amendment to the US Constitution extended suffrage to Black men in 1870, barriers to exercising that right would plague American democracy for generations. And other struggles  loomed as well. The fight for women's suffrage in Washington was engaged early in the Territorial period, briefly becoming law in 1883. But the victory was short-lived. In 1887, the Territorial Supreme Court overturned the law, and Washington women lost their right to vote—a rare example of rolling back suffrage once granted. 
Finally in 1910, Washington women won suffrage when statewide voters (men, of course) ratified the 6th Amendment to the state constitution, ensuring that voting could not be restricted by gender. Every county in the state voted affirmatively, enacting women's suffrage ten years before the national women's suffrage amendment to the US Constitution was ratified in 1920. 
Because voting is a right extended exclusively to citizens, the evolving definition of what constitutes an American citizen has also impacted the scope of suffrage. Since its earliest days as a territory, Washington's residents have been racially diverse; indeed, the first territorial census of 1860  documented residents hailing from Calcutta to the Cape Verde Islands off Africa and many places between. By 1910, fully one-quarter of the state's residents were foreign-born, coming from Europe, Asia, Africa and the Americas.
But not all were eligible for citizenship or the suffrage which citizens enjoy, and the exclusions were boldly defined by race. The region's first peoples, Native Americans, were not afforded citizenship, and thus prevented from voting until 1924, when the federal Indian Citizenship Act admitted Indigenous people to full U.S. citizenship regardless of tribal affiliation. But the U.S. Constitution still allowed states to decide which citizens could vote, and while Native Americans in Washington gained the right to vote in 1924, it took more than 40 years for every state to allow all Indigenous people to cast their ballots. 
Barriers to citizenship for Asian Americans virtually excluded them from the polls for much of American history. The 1882 Chinese Exclusion Act made people of Chinese descent ineligible for naturalization, the first federal law to exclude citizenship based purely on race, and for decades afterward non-native born people of Asian ancestry were unable to cast ballots.  At last, in 1952's Immigration and Nationality Act (McCarran-Walter Act), race was eliminated as a bar to naturalization, thus extending the right to vote to all citizens of Asian heritage. 
But extending suffrage and actually encouraging voting were clearly different, even in Washington State. Through the 19th century, Washington voters needed to read and speak English; live in the state for one year; be residents of their county for 90 days; and have made a home in their precinct for 30 days preceding the election. And Washington featured some onerous limitations on suffrage more commonly associated with the Jim Crow South. Poll taxes were levied for decades in the State–in King County, in 1900 for example, the poll tax was the equivalent of about $60 in today's money—and these levies were not abolished in the state until 1922.  
Tactics like fees and tests, specifically designed to discourage or harass minority voters, were largely dismantled in the federal Voting Rights Act of 1965 and successive laws, passed with the intention to clear legal barriers that prevented Black Americans and other people of color from voting. But when a U.S. Supreme Court decision in 2018 reversed some of these protections, the Washington Voting Rights Act, passed the same year, reinstated them in the Evergreen State.
That is in keeping with Washington's recent expansion of voting rights measures. In 2005, a Washington State bill allowed citizens with non-traditional addresses, like transient shelters and parks, to register to vote. In 2009, Washington State restored voting rights to people convicted of a felony, after they serve their sentence. And while the federal Constitutional amendment allowing anyone 18 years of age or older to vote was adopted in 1971 , the 2018 Washington Access to Democracy bills sought to increase participation in state elections by allowing 16- and 17-year-olds to pre-register to vote before they reached age 18. Other laws in the same package included legislation that automatically registered all eligible Washington citizens and offered "Election Day" registration. 
The interest in strengthening voter rights as a way of encouraging broad voter participation has continued even in the most recent legislative sessions. In 2019, for example, Washington State legislators passed the Native American Voting Rights Act, which increased the number of ballot drop boxes on reservations and allowed Native Americans to list tribal buildings as residences on voter registration forms. 
Perhaps the best example of Washington's commitment to enhanced voter rights is the statewide adoption of vote-by-mail. Designed to be convenient, inclusive, and to discourage fraud, the system has increased turnout as well, especially among young voters. But the vote-by-mail system in Washington didn't happen overnight. A series of laws beginning in the 1980s increased election and voter eligibility for mail-in voting. In 2005, counties could decide to switch exclusively to voting by mail. And as COVID-19 impacted the ability to gather in person, Washington's vote-by-mail system was seen as a national model. 
In 2020, Washington State took the national lead again—this time with voting by smartphone. Seattle-based company Democracy Live launched an online portal used in the 2020 King County Conservation District election. This was the first time all eligible voters had a smartphone option in a U.S. election. The Conservation District election was chosen to pilot the program because it was an easy-to-administer beta test—a low profile contest with low turnout. Just 0.29% of eligible King County voters cast ballots in that election in 2019. Using Democracy Live's platform, eligible voters could vote anywhere with cellular internet connection. The pilot program produced higher but still modest results—.49% of eligible voters cast ballots. 
Supporters for voting by smartphone hope a more convenient system boosts participation. Opponents argue that tethering democracy to the internet raises major cyber security concerns. But whatever the ultimate evolution of vote-by-phone, it is clear that Washington State will once again be in the lead in exploring ways to expand the suffrage for all its citizens. 
Leonard Garfield is the Executive Director of the Museum of History & Industry (MOHAI) and a board member of the Washington Courts Historical Society